The University of Greenwich is an aspiring and highly respected institution in the UK known for its magnificent, historic campuses, high teaching standards, international recognition, research excellence, student diversity and high student satisfaction.
A leading consulting organisation and publisher of the largest academic ranking of global universities, the Centre for World University Rankings (CWUR) places the University in the top 8 per cent globally, as well as being listed as one of the CWUR's top 2,000 global universities. 
Given this reputation, it is not surprising that it has such a diverse community. Students from around the world choose the University of Greenwich not only for its quality education but also for its culture, traditions, and diverse and supportive community.
When crafting a successful application for a renowned institution like the University of Greenwich, it is vital to gather all the necessary information and determine if it's the best fit for you.
Discover all the fascinating details about the University of Greenwich that you'll need to begin your investigation. 
Beautiful and Inspiring Locations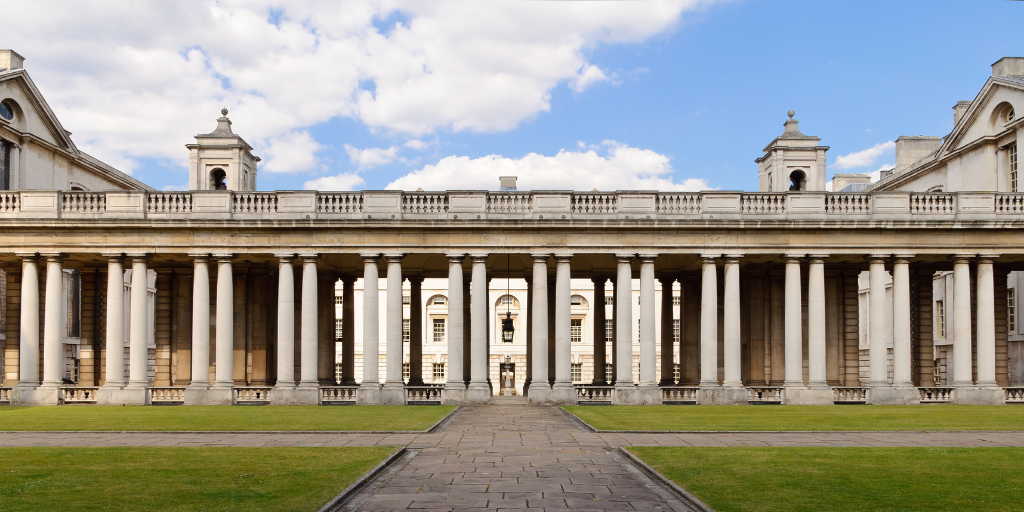 The University of Greenwich is known for its three beautiful campuses located in the heart of Greenwich, a renowned World Heritage Site, Avery Hill in south-east London, and the landmark Medway Campus in Kent. 
All three campuses create a perfect blend of old and new, allowing students to enjoy state-of-the-art teaching spaces within splendid historic buildings, and offering the best of city and campus life, creating strong relationships with local and international industries and employers.
High-quality Education
With a variety of degree programmes, Greenwich is known for the quality of its education, teaching innovation, excellence, and reputation.
The university faculty staff come with extensive teaching qualifications and different industry backgrounds, enabling them to provide up-to-date and industry-relevant courses accredited by professional bodies.
Not only are lecturers passionate about sharing their knowledge with students, but they also place significant importance on helping them reach their full potential and often go the extra mile in providing holistic learning and development experience and helping them excel at their chosen subject.
These principles assisted the University in receiving a national Teaching Excellence Framework (TEF) Silver grade in 2017 and National Teaching Fellowships from the Higher Education Academy for demonstrating an outstanding impact on student outcomes and the teaching profession. 
Joy of Learning
The University of Greenwich takes great pride in its students and provides all necessary facilities to ensure that they enjoy studying at Greenwich and have the opportunity to excel.
All courses are designed with up-to-date business and industry trends, using the latest technologies, allowing students to revisit their lectures online and on-demand.
Additionally, many students have external mentors who help them get a work placement to build the workplace skills and experience valued by employers.
According to the 2018 DLHE survey, 90% of Greenwich graduates have begun work or further study within six months of completing their course. 
Employability Passport (GEP) Scheme
The University has an exclusive Greenwich Employability Passport (GEP) Scheme through which students are automatically attached to the GEP programme, through which they automatically receive points for their activities and achievements, which specifically enhance students' employability. This programme aims to help students realise their full potential and equip them with the skills, knowledge, and confidence to enter their desired career path.
A validated CV and a GEP LinkedIn recommendation are given to participants who complete the programme successfully.
Up to this day, 2517 students have taken part in the programme so far, and their feedback about the programme was overwhelmingly positive:
"I am now aware of my abilities and capabilities, and I am aware of what potential employers are looking for, thanks to GEP. GEP enabled me to advance a few notches on my career ladder ".
International Student Support
The University of Greenwich takes great pride in its international community and offers a wide variety of programs for students coming to study from overseas. 
They have a team of international advisers who can help you transition to life in England and can assist with any queries a student may have.
What's more, the University provide an industrial placement scheme that aims to help students realise their full potential and get suitable jobs after graduation.
With the additional support of the University's support team, which organises individual meetings of students with career consultants, students receive help with resume writing and providing information about internships and volunteer work to potential employers. 
Financial support
The University of Greenwich offers a number of scholarships and bursaries to help students with the cost of their studies.  
Awards range from sports and high achievement scholarships to bursaries for care leavers and students in financial need.
Reputable world-class research centre
The University of Greenwich is known for carrying out high-quality research in terms of originality, significance and rigours worldwide.
For example, researchers at the University's Natural Resources Institute have invented a novel artificial cow which attracts and kills the tsetse fly in Africa, helping combat the fatal sleeping sickness. The invention has been named one of the ten most important discoveries to be made at the UK University over the past 60 years.  
Diverse Greenwich community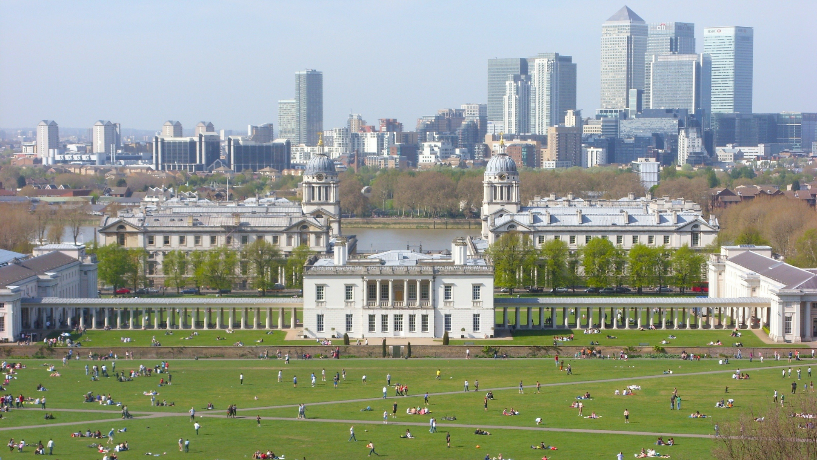 Greenwich is a community of people brought together by their love of learning rather than just a collection of individual students and staff members.
There are many opportunities to make friends, try new things, and figure out what you're excellent at. For example, the University provides undergraduate and graduate students with various social, and sports opportunities.
The University of Greenwich welcomes diversity and creates an environment where everyone is accepted and can find a place to fit in.
By choosing to study at the University of Greenwich, you'll be welcomed into an incredible, multicultural student community and experience the best of what living and studying in the UK has to offer. 
If this is not a dream place to study in, then we don't know what is!
Additional things to know before applying to the University of Greenwich
What is the University of Greenwich known for?
The University of Greenwich is well-known for its high-quality teaching and research facilities, as well as for its diversity and beautiful, historic campuses in south-east London and Kent.
How many students are studying at the University of Greenwich right now?
The University of Greenwich is one of the largest schools in London, with over 19,000 students, although this number changes each year.
Is the University of Greenwich hard to get into?
The average acceptance rate at the University of Greenwich is 64.6%, which means that the University often accept 64 applicants out of 100. Thus, the admissions to this University remain relatively accessible. 
Is the University of Greenwich good for international students?
The University is proud of its diverse student body. A total of 4,900 international students at Greenwich University come from more than 140 different nations. 
The University of Greenwich is a premier modern university due to its innovative culture, solid ties to business and industry, outstanding research, global focus, and an exciting range of courses for international students.
What is the University of Greenwich ranking among other schools?
Currently, the University of Greenwich ranks 94th in the Guardian University Guide 2022 rankings, meaning it's in the UK's top 100 higher learning institutions.  
While the University of Greenwich has retained its spot as a top UK institution, it is also ranked 601 in the latest edition of the Times Higher Education World University Rankings 2022. 
What's more, it has an overall score of 4.3 stars, according to student reviews on Studyportals. This international study choice platform is considered the best place to find out how students rate their study and living experience at universities worldwide.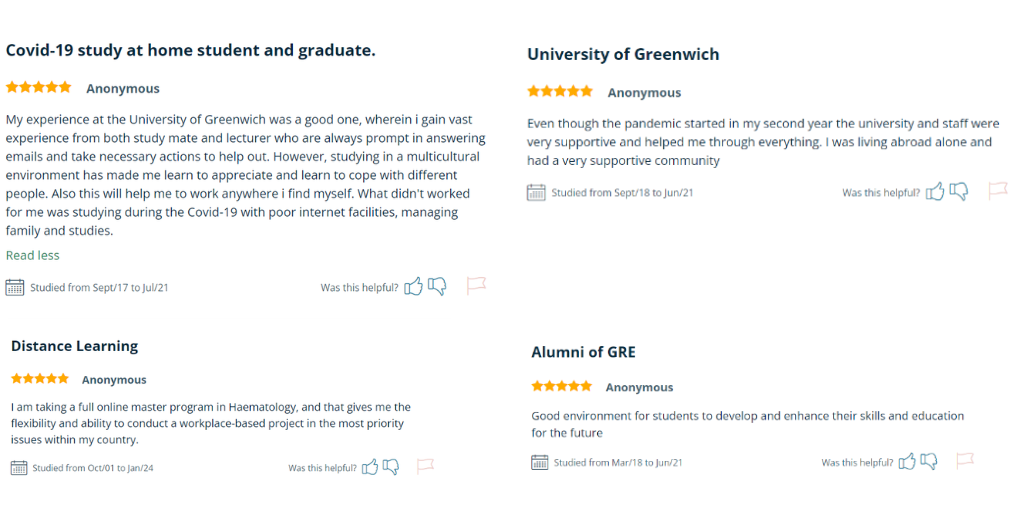 Need help applying to the University of Greenwich?
Now that you have a complete picture of the University of Greenwich, you might be asking yourself, how do I get into the University of Greenwich?
One of the steps would be to contact a specialised admissions agent who will guide you during the application process. 
Oxford International is one such expert who has worked with students for years to significantly increase their chances of getting into some of the country's top universities, including the University of Greenwich.
Whether you need help with improving your English language skills, enrolling in Pre-Master's and Pre-PhD programmes, or any other service related to university admissions, Oxford International is here to help you out!
We are enthusiastic about education and committed to giving students the finest opportunities to enrich their education and future careers.
We have a proven track record of helping over 50,000 UK and international students, just like you, achieve academic success since 1991.
Speak with one of Oxford International's admissions teams to learn more about what we do.