Ravensbourne is an innovative, industry-focused university at the heart of London's newest creative community in Greenwich. It is devoted to providing its students with the specialised knowledge and experiences they need for excellent careers in digital media and design, and it fosters creativity and teamwork.
Ravensbourne University ranks first when it comes to creative graduate salaries. in 2017, 96.4% of Ravensbourne students were at work within six months after graduating. The percentage saw a slight decline due to the pandemic, however, it still remains one of the highest in the industry, with an impressive 94.7%. This means that 19 out of 20 Ravensbourne students are employed or proceed for further studies within 6 months of graduating.
Students from around the world choose Ravensbourne University not only for its quality education but also to get access to an environment of creativity and collaboration that gives students the skills and opportunities to pursue their desired careers in digital media and design upon graduation.
Here are some interesting details about the Ravensbourne University that you should know before you kickstart your application.
Beautiful Location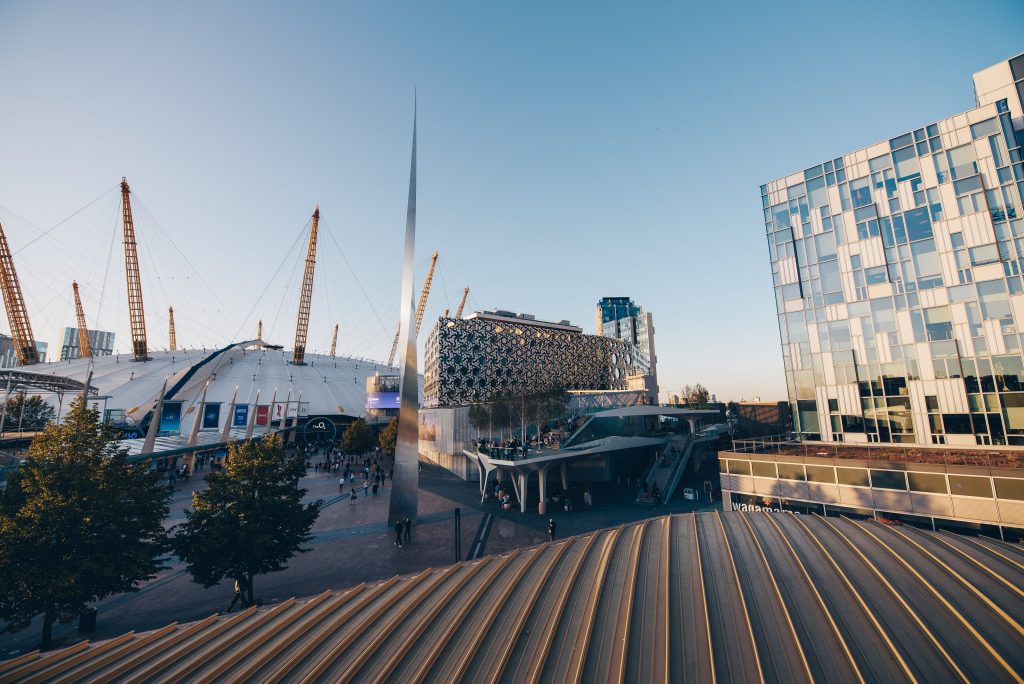 Ravensbourne is located on the Greenwich Peninsula, in the heart of London's newest permanent creative community. Situated right next to the world famous O2 Arena, the campus offers students incredible views across River Thames, Canary Wharf, Maritime Greenwich, and beyond.
The peninsula is a thriving public space filled with creative businesses, restaurants, cafes, hotels and an entertainment juggernaut, the O2 Arena, which provides plenty of open space and bright light for students to get creative and inspired.
World Class Architecture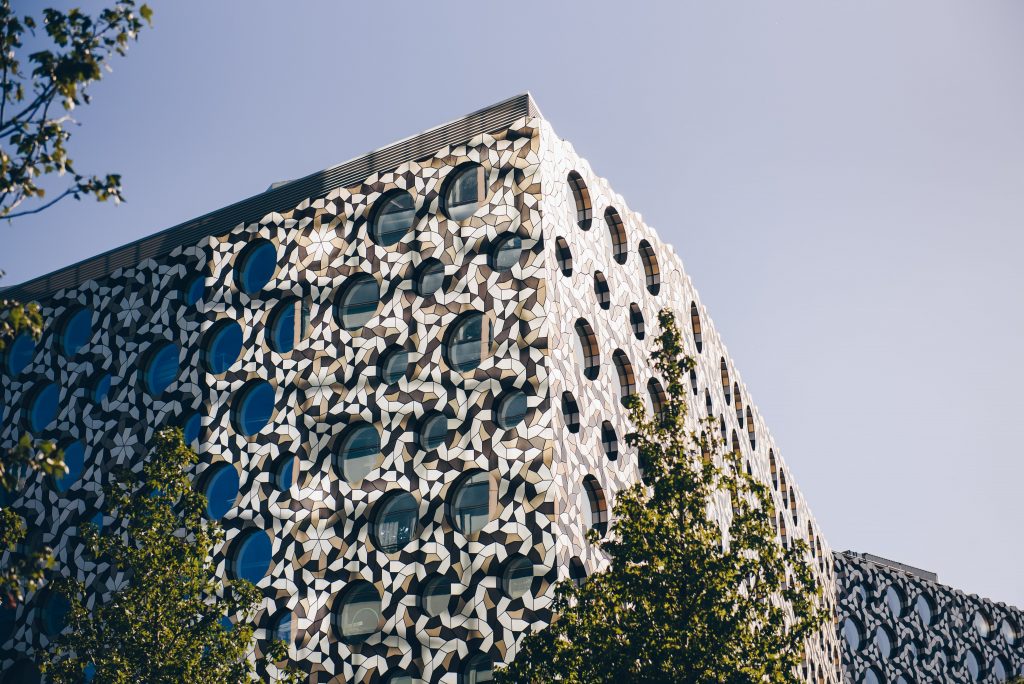 Designed by the founder of Farshid Moussavi Architecture, Farshid Moussavi, from the acclaimed Foreign Office Architects in 2012, the Ravensbourne building has become a famous London masterpiece swathed in a mosaic of 28,000 gleaming tiles. It is hailed as a masterclass in functional design and public art by RIBA magazine. 
To create a sense of movement, reflecting the university's unique culture, its boundless creativity, diversity, experimental nature and focus on creative design and technology, the building is enveloped in different coloured, tessellated aluminium tiles and circular windows of different sizes.
Moreover, the building is also extremely clever, scoring a BREEAM qualification of environmental excellence. For example, the massive atrium that connects the university to the outside world provides air-flow to the rest of the structure. In addition, each studio space has a double row of circular windows that reduce the need for artificial lighting thanks to the natural light that easily finds its way into the building.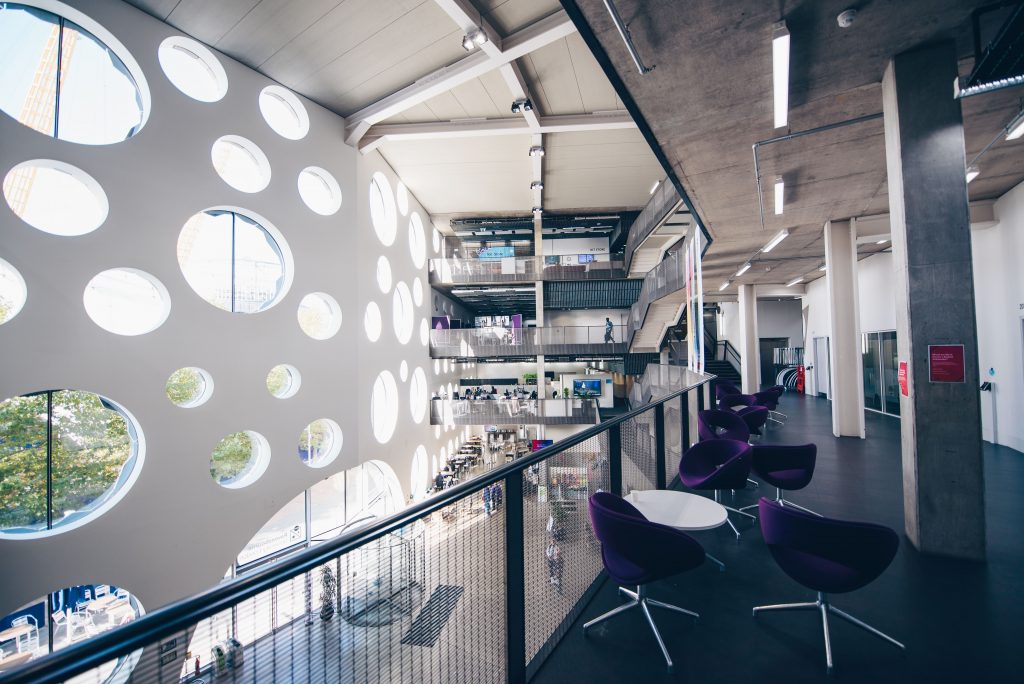 The building is also cooled by a chilled beam system, which efficiently heats and cools the structure by channelling energy through the floor.
The building, very deservingly, won the RIBA award for best Higher Education building in 2011, thanks to its eco-friendly design and dazzling good looks.
Student Support
Ravensbourne University takes great pride in its community and is committed to creating an inclusive environment for all. It offers a wide variety of support to students who struggle to keep up academically, are facing personal problems, looking for some information and advice.
The university offers learning and development tutoring and mentoring programmes with Study Skills team at Ravensbourne University who are helping students to be motivated and on track with their studies to ensure that no problem becomes a barrier between them and their desired degree.
Due to Ravensbourne University's close connect to employers, students are also put on mentorship programmes with leading industry experts, offering them a strong foundation to their careers.
Diverse Community 
Ravensbourne University's creative community of approximately 2,600 students from 50 diverse backgrounds is what makes Ravensbourne truly special.
The university provides a vibrant mix of students, award-winning lecturers, and industry professionals from various backgrounds united by fiery creativity and a passion for the industry.
The university's diverse community allows students to be themselves, find their voice, and discover what creativity truly means to them.
By choosing to study at Ravensbourne University, students will be welcomed into an incredible, multicultural and creative student community and the opportunity to experience the best that living and studying in the UK has to offer.
Additional things to know before applying to the Ravensbourne University 
What is Ravensbourne University known for? 
Previously, Ravensbourne University was known as an arts college in Kent, but in 2017, the university attained Degree Awarding Powers and became a specialist industry-focused university with a vocational portfolio of digital media and design courses. Up to this day, the university remains a major supplier of talent to the UK's creative industry and is driven by digital innovation.
How many students are studying at Ravensbourne University right now? 
Ravensbourne University is one of the leading schools in London specialising in digital media and design programmes, with over 2,600 students in the last academic year.
Is Ravensbourne University hard to get into? 
The average acceptance rate at Ravensbourne University is 88%. Thus, admissions to this University remain relatively accessible.
What is Ravensbourne University ranking among other schools? 
In 2021 Graduate Outcomes survey indicated that 84% of our graduates were in employment or further studies after graduation.
Currently, Ravensbourne University ranks 201st in the latest QS World University Rankings by Subject (Accounting & Finance) from British Quacquarelli Symonds, a UK- based company specialising in the analysis of higher education institutions worldwide.
In 2021, Ravensbourne University achieved 44th place in Good University Guide by Subject (Accounting & Finance), according to The Times, based on student opinions on teaching quality and their broader university experiences.
Need help applying to Ravensbourne University? 
For years, Oxford International has worked with students to help them improve their chances of admission to some of the country's top universities, including Ravensbourne University.
Whether you need help improving your English language skills, enrolling in Pre-Master's and Pre-PhD programmes, or any other service related to university admissions, Oxford International will be thrilled to help you! 
We are passionate about education and committed to providing students with the best opportunities to further their education and future careers.
Since 1991, we have a proven record of helping over 50,000 UK, and abroad students achieve academic success.
Learn more by booking a free consultation with Oxford International's admissions teams.