We are constantly evolving our products based on partner and student feedback, and we'd like to update you on all the improvements and new additions to you, as well as sharing some of the successes in the previous weeks.
The Highlights
Over 5,400 ELLT tests were completed in July & August
Implementation of major new security features
94% of Online Pre-Sessional English students progressed into university
96.7% of students would recommend the ELLT to a friend for proof of proficiency
Latest News
English Language Level Test
We are pleased to announce the introduction of a unique identification number – ELLT Number – that will be assigned to each student. This is to replace the student's email address as the unique identifier. The ELLT number can be used to search for students and their results in the ELLT Partner Portal and when requesting a results verification from the ELLT office team. As this number is fixed to each student it allows us to identify them easier and ensures they are not able to change their name or commit ID fraud during the test. The Unique ELLT number will also be displayed on the certificate.
Upgrade to ELLT Certificate
Our ELLT certificate will now have additional features to give added security to all our partners. As part of the ELLT registration process, students will be required to upload a scanned copy of their passport and a picture of themselves. Both of these images will be displayed on the certificate to ensure authenticity and to stop the possibility of any students committing ID fraud during the test. The certificate will also include the following information:
Student Name
Unique ELLT number
Date of examination
University ID number (optional for students who have already applied to a specific institution)
Passport number
Student Nationality
You will be pleased to know that we will continue to display the overall level along with the four individual component levels with an easy-to-use mapping diagram from CEFR to IELTS equivalent.
Students will be aware that their ID will follow them from registration through to presenting their documents at enrolment. These new features give further confidence to all our partners using the ELLT.
All updates will be available by the end of September 2021
Updated Student Guidebook
We have updated our ELLT Student Guide to reflect the latest features and to provide students with a comprehensive understanding of the ELLT portal. To download the latest guidebook please click here.
Security & Academic
Over the last month, our academic and security team have worked to boost the security components of the ELLT. This has resulted in the creation of the ELLT Anti-Fraud platform and the introduction of screen sharing within the reading, listening and writing tests.
The Anti-Fraud platform allows our team to manage the AI proctoring of each of your student's ELLT, ensuring that the results you receive are a true representation of their English language level. The Anti-fraud system displays all the data from the AI proctoring for each student and highlights any security warnings. We can flag high-risk students, terminate exams and create fraud reports on an individual basis. Soon we will be able to share these reports with you to ensure you have a full overview of the students applying.
Our latest update requires students to share their screen with the ELLT portal during the reading, listening and writing components. This, along with the audio and video recording, is shared with our examiners and security team to ensure students did not have anything else on their screen or are sharing their screen with anyone else during their test. Since implementing this security update last month we have been able to catch several students trying to cheat or bypass our other security features.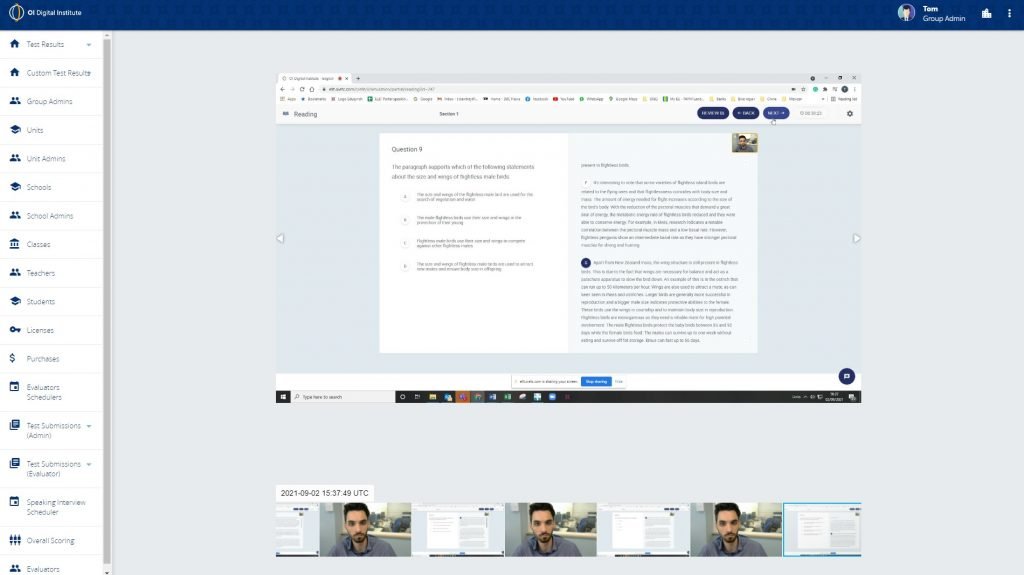 Finally, thank you to all our partners for your continued support! We are excited for the new academic year and to continue sharing our plans with you.
~ Gary Palmer
Managing Director